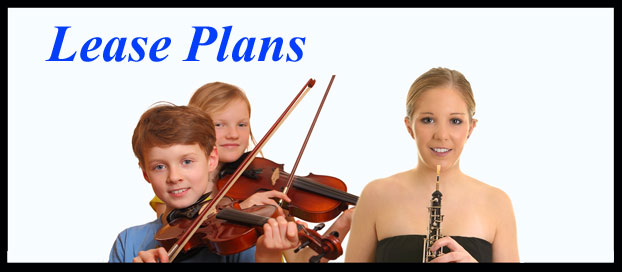 PLEASE READ:
Listed below are the instruments available for our Lease program
If the instrument you need is not listed, visit our Rent To Own page by clicking

HERE
.
Give your child the best chance for success.
Our lease plan lets you lease an instrument month-to-month with the option to return it at any time. Each lease payment made builds a Lease Credit which can be used toward purchase of like instrument. We only lease quality instruments and our service center will keep it in excellent playing condition. Our plan is without a doubt your best value!

FEATURES:

•

Equity transfers on string instruments as you change sizes.

•

Two years of continuous lease payments can be applied to the purchase of a new instrument of the same type.

•

Return at any time with no further obligation.

Before going through the lease on-line process, please consult your instructor for proper sizing.

REPAIR AND MAINTENANCE PROGRAM

Have the peace of mind knowing there will be no unexpected repairs or replacement costs.For a few extra dollars per month, you may enroll in our optional repair and maintenance program. This invaluable program covers 100% of the cost of any repairs, accidental damage or loss of the instrument. Whether just routine maintenance or a mishap, we have you covered. So long as the damage isn't deliberate or a result of intentional misuse, you will have no unexpected expense.

3 Easy Steps to Lease

1. Create an account or login to an existing one.

2. Click the red "LEASE NOW" button

3. Complete the necessary enrollment form.

Once your application has been approved, we'll deliver the instrument FREE to your school or you may pick it up at the Rieman Music location nearest you.
---
*IMPORTANT*
---