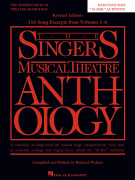 16 bar Audition Baritone/Bass Revised (Replaces 00230042) [vocal]
Features:
Songs especially good for auditions have been chosen from Volumes 1-5 of The Singer's Musical Theatre Anthology and edited to 30-40 second 16-Bar excerpts. Each volume includes over 100 songs in original keys.
Table of Contents:
A Quiet Girl

A Secretary Is Not A Toy

A Wonderful Day Like Today

All I Care About

All That's Known

Always Look On The Bright Side Of Life

At Night She Comes Home To Me

Bring Me My Bride

Bye Bye Baby

C'est Moi

Camelot

Coffee Shop Nights

Colorado, My Home

Come Back To Me

Cool

Do I Love You Because You're Beautiful?

Drink With Me (To Days Gone By)

Dulcinea

Empty Chairs At Empty Tables

Everybody Ought To Have A Maid

Everybody Says Don't

Fathoms Below

Fight The Dragons

Gaston

Get Me To The Church On Time

Gonna Be Another Hot Day

Gonna Build A Mountain

Good Thing Going

Grand Knowing You

Greased Lightnin'

Guido's Song

Haben Sie Gehort Das Deutsche Band? (Have You Ever Heard The German Band?)

Heroes All Around

How To Handle A Woman

I Don't Remember You

I Miss The Music

I Rise Again

I Wanna Be A Producer

I Won't Send Roses

I Wonder What The King Is Doing Tonight

I'll Be Here

I'll Never Say No

I'm A Bad, Bad Man

I've Come To Wive It Wealthily In Padua

I've Heard It All Before

If Ever I Would Leave You

If I Can't Love Her

If I Loved You

Ilona

In Praise Of Women

Is This What You Call Love?

It's All Right With Me

It's Love

It's Not Where You Start

Javert's Suicide

Jet Song

Just In Time

Last One Picked

Leaning On A Lamp Post

Les Poissons

Lonely Room

Look At That Face

Lost In The Stars

Luck Be A Lady

Man Of La Mancha (I, Don Quixote)

Marry Me A Little

Marry Well

Me

Meditation II

Multitudes Of Amys

My Name

My Time Of Day

Oh, What A Beautiful Mornin'

Ol' Man River

Once Upon A Time

Out Of The Sun

Pilate's Dream

Pretty Women

Put On A Happy Face

Real Life

Real Live Girl

Reviewing The Situation

Santa Fe

September Song

Sir Robin's Song

Smile

Some Enchanted Evening

Sorry - Grateful

Stars

Ten Minutes Ago

The Colors Of My Life

The Girl That I Marry

The Impossible Dream (The Quest)

The Kid Inside

The Kite (Charlie Brown's Kite)

The Road You Didn't Take

There's No Reason In The World

They Call The Wind Maria

This Can't Be Love

This Nearly Was Mine

Those Canaan Days

Try Me

Try To Remember

Waitin' For The Light To Shine

Wand'rin' Star

Were Thine That Special Face

What Chance Have I With Love?

What Kind Of Fool Am I?

When I First Saw You (You Are My Dream)

When Words Fail

Where Is The Life That Late I Led?

Who Can I Turn To (When Nobody Needs Me)

With So Little To Be Sure Of

Wonderful

You Should Be Loved

You Won't Succeed On Broadway



| | |
| --- | --- |
| Publisher: | Hal Leonard |
| Catalog: | HL00260627 |
| Composer: | |
| Artist: | |
| Arranger: | |
| Voicing: | Vocal |
| Level: | |
| Pages: | 192 |
16 bar Audition Baritone/Bass Revised (Replaces 00230042) [vocal]
1001-00260627^HL00260627
1.38
---
Customer Reviews